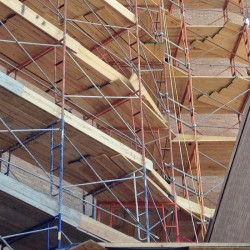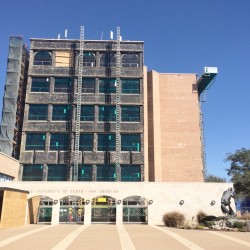 General Contractor Projects
Executive Tower Renovation,
University of Texas-Pan American, Edinburg, Texas
Awards:
ABC National Excellence in Construction Pyramid Award
Market:
Education
Delivery Method:
Competitive Bid
Type of Construction:
Renovation
Project Size:
48,000SF
Project Value:
$1,862,745
Project Overview:
Suspended scaffolding was pre-engineered and installed according to specifications and to comply with OSHA standards. A covered tunnel walkway was constructed to protect pedestrians at the main entrances of the building. Existing brick veneer, mortar and brick ties were removed and disposed of. In addition, lintels that were deemed structurally unsound were removed and replaced. Coping caps on the perimeter of the roof were removed and all sheet metal disposed of. Areas of modified bitumen roof with drip edge were peeled back one foot to allow for brick veneer replacement. All walls were cleaned and prepared to accept the new brick ties and a new damp proofing system which covered all exterior block walls and brick ties was installed. Ledges were prepared for the installation of the new brick veneer, with pointing and mortar mixture to meet specifications. New coping caps were installed in addition to a new gutter system.